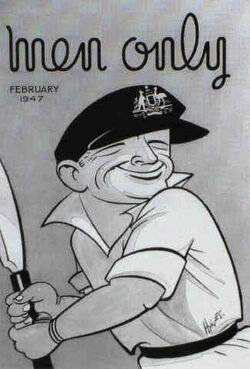 Edward Sylvester Hynes was born in Burren, County Clare, Ireland, in 1897, the son of a surgeon. He was brought up in Nottingham, served in the Merchant Navy, and studied medicine at Sheffield University.
Some of his earliest caricatures appeared in Town Topics in 1923, but he is probably best known for his colour caricature covers for Men Only from 1937 to 1956. He also contributed to the Daily Sketch, Lilliput, Gentlewoman, The Evening News, The Strand Magazine, The Humorist, Razzle (including covers), the Sunday Express, the Bystander, London Calling, Night & Day and London Opinion. He drew theatre caricatures for the Illustrated Sporting and Dramatic News, and also worked in advertising. He was a fellow of the Royal Geographical Society.
He published one book of cartoons, Cocktail Cavalcade (1937). He retired to his birthplace in Burren, County Clare, where he produced oil paintings and charcoal drawings. He died at Bayfield House, Newquay, Burren, on 12 May 1982, and is buried in Corcomroe Abbey.
References
Edit
Mark Bryant, Dictionary of Twentieth Century British Cartoonists and Caricaturists, Ashgate, 2000, p. 121-122
Steve Holland, Query Corner: Edward S. Hynes, Bear Alley, 7 September 2008
Ad blocker interference detected!
Wikia is a free-to-use site that makes money from advertising. We have a modified experience for viewers using ad blockers

Wikia is not accessible if you've made further modifications. Remove the custom ad blocker rule(s) and the page will load as expected.